ABOUT US


Reading Festival Chorus is an amateur mixed choir, first established in 1945, with a current membership of 80 singers. Our patron is John Lill CBE. We perform three to four concerts a year of sacred and secular music, ranging from early to contemporary music in varied venues in and around Reading. We perform with both professional and amateur soloists and orchestras.

The aim of the Chorus is to give the people of Reading and its surrounding communities the opportunity to learn, perform and hear varied choral music of the highest standard.

Our rehearsals, on Monday evenings, involve fun, challenge, humour and passion and we aim for a high standard of singing and performance. In addition to our formal concerts we are involved in a variety of other musical events. We have regular exchanges with our twin choir Johanneskantorei in Düsseldorf and sing carols at various venues over the Christmas period where we raise monies for charities.

We provide a choir for weddings and memorial services. If you require a choir for such an occasion, please contact Bill Ellison (see Contact Us).

We also have open evenings throughout the year and singing workshops working on our technique and musicality. We have a lively and varied social life including regular post-rehearsal pub visits, quizzes, dinners and fundraising events such as singing carols.

We warmly welcome enthusiastic singers who are reasonably proficient at reading music and are able to commit to regular attendance at rehearsals and concerts. For further information, see the Joining Us page.


GREG HALLAM - MUSIC DIRECTOR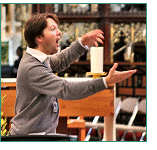 Greg Hallam gained his bachelor degree from the Royal College of Music where he studied voice with Ashley Stafford.
He went on to study Choral Conducting with Patrick Russill and Paul Brough at the Royal Academy of Music and was awarded an MA and LRAM, both with distinction.
Greg is Musical Director of Reading Festival Chorus, Swansea Bach Choir and Bracknell Choral Society. He is tutor to the postgraduate choral conducting students at the Royal Welsh College of Music and Drama. Greg is proud to have helped set-up the London Youth Choir 2012, directing their boys' choir and training choir for four years and delivering workshops as part of their 'Aspire' scheme. In addition he has worked as Assistant Music Director of the National Youth Choirs of Great Britain and founded the Ulster Youth Junior Choir.
As singing teacher at Wellington College and Christchurch Cathedral School, Oxford, Greg teaches individual lessons to young singers aged 8-18. In addition, he works closely with Worcester College, Oxford; delivering regular workshops for the chapel choir, providing vocal tuition to undergraduate students and helping produce their four most recent recordings.
Recently, Greg has been working with Mahogony Opera Group as Music Director for their 'Snappy Operas' – teaching and conducting ten newly-commissioned 10-minute operas to children in Cornwall, Durham and Essex.


JUDITH CREIGHTON - ACCOMPANIST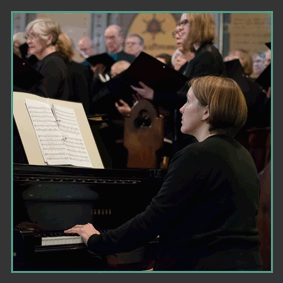 Judith started learning the piano at the age of six and studied Music and German at Southampton University, where she specialised in piano accompaniment. Since graduating she has accompanied many different choirs and theatre groups in and around Reading for rehearsals and performances.

She is currently the regular accompanist for the Twyford Singers and Tamesis Chamber Choir, as well as accompanying solo singers and instrumentalists for exams and recitals.

Judith also teaches piano, at Crosfields School and the Earley Music Centre in Reading, and Shiplake College near Henley, and plays the piano for services at Shinfield Baptist Church.

Judith is married to Phil, the editor and publisher of The Wokingham Paper, and their two children are learning the piano, violin, guitar and recorder between them! Perhaps future accompanists of Reading Festival Chorus ...?


PREVIOUS MUSIC DIRECTORS
1945
1945 to 1967
1968 to 1971
1971 to 1984
1984 to 1988
1988 to 1996
1996 to 2003
2004 to 2011
2011 to 2017
2018
Dr Reginald Jacques
W Ewart Masser
Maurice Miles
Peter Edwards
Gregory Rose
Jonathan Grieves Smith
Jacques Harry Cohen
Janet Lincé
Edward-Rhys Harry
Andrew Haase (Guest)