WELCOME TO OUR WEBSITE!


Reading Festival Chorus is an amateur mixed choir, first established in 1945, which means we celebrated our 70th Anniversary a few years ago! We are a lively and friendly choir of around 75 singers. who strive to attain a high quality of performance.

Click on the image to see and hear the Chorus in March 2018.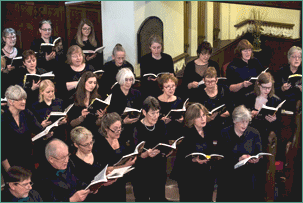 The Chorus rehearses from September to June on Monday evenings at Wesley Church on Queen's Road, and new members are always welcome. To find out more click the appropriate item in the menu box on the left or follow us on Facebook and Twitter.

Greg Hallam, our new Music Director, started with us in April 2018. Greg is an experienced Choral musician as a Music Director, teacher and as a singer and soloist. Click here to get the full low-down on Greg. We are grateful to Andy Haase, visiting the UK from Hudson, Wisconsin, USA, for leading us as guest Music Director for the first few months of 2018.

The Chorus is a member of Making Music, a membership organisation which supports, stands up for and celebrates groups of people making and presenting music together in their leisure time across the UK.

The Chorus is a registered charity (No. 254201). If you wish to make a donation to the Chorus please use MyDonate or for shopping use easyfundraising or smile.amazon.



NEWS AND EVENTS


23 March 2019

Lenten Reflections

7.30 pm
@
Wesley Church,
Reading,
RG1 4BW